Chief Diversity Officers and Chief Academic Officers in Collaboration
1:00 - 2:00 pm, EDT, Tuesday, September 26, 2017
NADOHE and the Association of Chief Academic Officers presented a complimentary webinar, on Tuesday, September 26, to discuss the collaborative role of the CDO and CAO to engage campus activism and address contentious freedom of expression issues on today's college campuses. Click here for the webinar recording and PowerPoint presentation. 
Presenters

William T. Jones (moderator)
Chief Diversity/Affirmative Action Officer
SUNY Canton
Professor William T. Jones is a Chief Diversity and Affirmative Action Officer at the State University of New York (SUNY) College of technology at Canton. Bill provides leadership and direction on campus and in the community ensuring that SUNY Canton's Strategic Plan for diversity, equity, and inclusion goals are holistically met. 



Provost and Senior Vice President
James Madison University
Heather Coltman, DMA, is the Provost and Senior Vice President at James Madison University.




Art Dean
Special Assistant to the President
James Madison University
Arthur Dean serves as the Executive Director for Access and Inclusion at James Madison University, he has served in this role for the past eleven years. He is a member of the James Madison University's Senior Leadership Team since 2007.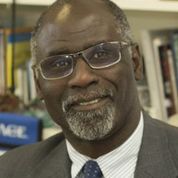 David Owusu-Ansah
Executive Director, Office of Access and Inclusion
James Madison University
Dr. David Owusu-Ansah, Professor of History of Africa and Islam, arrived at JMU in the fall of 1986. During his long stay at the institution, he developed several Africa courses, served as the coordinator of the Africana Studies program for several years and was his department's director of the graduate program for 10 years. 




Elizabeth F. Ortiz
Vice President, Office of Institutional Diversity and Equity
DePaul University
Elizabeth Ortiz joined DePaul University in 2002 and is currently the Vice President of Institutional Diversity and Equity. Prior to her work at DePaul she was the Director of Affirmative Action, Diversity and Employee Relations at Northern Illinois University.